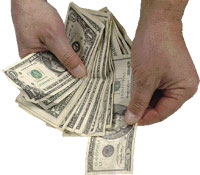 Beginning on June 15, 2010, the federal government will begin mailing one-time $250 rebate checks to Medicare beneficiaries who have hit the drug plan's coverage gap known as: the doughnut hole.
The payment is part of the new health care reform law and people on Medicare do not have to apply to receive the rebate.  Checks will be mailed roughly every six weeks until the end of the year.
Help with drug costs will continue in 2011 when those on Medicare will receive a 50 percent discount if they reach the doughnut hole.  Savings will continue to increase over the years until the doughnut hole is closed in 2020.
What Does This Mean For Those Who Prepare Bankruptcy Petitions?
If you have a debtor who receives an income from the federal government, you need to ask them if they receive Medicare.  If so, ask them if they received the $250 rebate check.  If so, this additional income will need to be added to Schedule I and the Means Test within the bankruptcy petition.
For more information visit: http://www.medicare.gov
Upcoming Bankruptcy Training Seminars
http://www.bankruptcytrainingproducts.com/home/web-and-teleconference-training