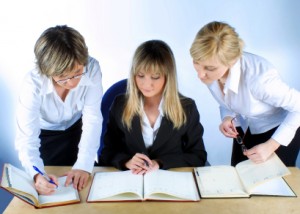 It does not matter if you are trying to market your services as an attorney or market your services as a virtual assistant; the marketing approach is still the same. However, many beginners consistently make the same mistake and hopefully this article will help you to change your marketing approach.
The one major mistake that people make with marketing is telling their potential customer how great and wonderful they are. Instead, a good marketer NEVER talks about their company or their background (unless a resume is posted on the website) but instead focuses solely on the needs of the potential customer.
We recently had a student come to Colorado for personalized training in marketing and growing their business. One of the first marketing lessons I taught him was taking him to a restaurant.  I said: How would you feel if the waitress walked up to our table and instead of asking us what we wanted to order, she told us about her background, how long she had been a waitress, how many classes she had taken and how much she loved being a waitress?
The student said he did not care about the background and experience of the waitress; he only wanted a cup of coffee and a donut.  The same truth applies to announcements, articles, advertisements, press releases, or anything else pertaining to our businesses. ALWAYS put the customer FIRST, FOREMOST and IN FRONT if you want to build a successful business. If you spend time talking about yourself, your business will fail; plain and simple.
Here is another example to help you:
AN EXAMPLE OF BAD MARKETING
I would like to offer my services to you. I have over three years working as independent legal professional for a U.S. attorney who is practicing, among others, Bankruptcy Law in Virginia and Maryland USA. I have extensive experience in completing Bankruptcy on EZ filing software. I believe you are aware of the benefits of outsourcing, not the least of which is the financial benefits to you.
For $3/hour, I assure you of my competence in preparing Bankruptcy documents with due diligence using EZ filing software. If you feel there is a mutual interest, I would welcome the opportunity to showcase my competence with you.
Thank you in advance for your time and consideration. I look forward to hearing from you soon.
ANALYSIS
1.  Due to the spelling and grammar mistakes, this indicates that this person does not provide accuracy.
2.  The person spends too much time talking about their background, not how the customer can benefit.
3.  The person states they will work for $3 per hour when the industry standard is currently $75 to $125; therefore, this person would never be taken seriously.
4.  This person assumes her customer knows everything instead of providing information.  For example, in the sentence: I believe you are aware of the benefits of outsourcing. (Why not tell us about the benefits instead of talking about yourself? This is insulting to the clients.)
5.  This person is limited to EZ Filing software. If a potential customer uses Bankruptcy 2011 software, they would never contact this person.
AN EXAMPLE OF GOOD MARKETING
Increase your bankruptcy law firm profits by 400% or more by utilizing My Company for your Chapter 7 and Chapter 13 paralegal needs. For find out more about the benefits your law firm can receive and to get started now, visit: www.mycompany.com
SUMMARY
I strongly urge people who are marketing but not achieving success to begin their initial training by reading the advertisements, brochures and other marketing materials of successful companies (not unsuccessful ones.) Then, take a few hours and watch QVC on television.  These are free and simple ways to learn how to present benefit after benefit after benefit of your services to the potential customer.
Bottom line: Take your eyes off yourself and your needs and focus on the needs of YOUR CUSTOMER 100% of the time.  I wish you the best of marketing success.