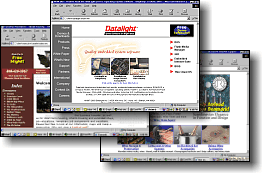 I receive many phone calls and emails from attorneys who ask:
1.  Who can I get to design my web site?
2.  How can I market my website?
Most attorneys still believe they need to pay a web designer thousands of dollars to design their website or spend thousands of hours doing the job themselves.   This scenario naturally would have any attorney afraid to believe they can actually design and control their own website; so they relinquish control to other companies who claim to do the job for them; often resulting in very poor responses from potential clients.
But there is a solution to this dilemma.  Within the past year, WordPress (originally intended to be blogging software) has become a very popular software to build a web site.  And building a website in blogging software also enhances and greatly improves your search engine traffic, resulting in more awareness from your clients than the national law firm directory websites can normally offer.
DO BANKRUPTCY ATTORNEYS NEED TO MARKET THEIR WEBSITE?
If your law firm serves primarily consumers seeking to file Chapter 7 and 13 bankruptcy, you may be wasting advertising dollars if you think you can find clients by solely marketing your website.  Many attorneys have invested thousands of dollars into designing a website, hoping it will bring them a lot of business, only to be extremely disappointed.
Another disappointment is for attorneys who pay web designers to design overly corporate-looking websites with moving Flash elements, convinced by the web designer that this would be the best way to attract new clients.  But unless the web designer has experience working in Chapter 7 and 13 bankruptcy law, they know nothing about who your client is and what attracts them.  So, how can the web designer build you an effective website specifically for your audience?  They cannot.
HOW CAN ATTORNEYS ATTRACT CLIENTS?
First of all, attorneys need to identify with a very important fact they already know:  Attorneys do not need national advertising of their websites.  Instead, a law firm serves the local residents of the state; therefore, your potential clients exist all around you.  There are actually a billion ways for an attorney like you to attract clients in your state and local area; but this article will not focus on this broad issue.  Right now we need to focus on developing a bankruptcy law firm website and marketing it.
Secondly, potential clients do not need to visit a website filled with a lot of bells and whistles and moving animations.  All Chapter 7 and Chapter 13 bankruptcy clients need to know are:
1.  Where your office is located.
2.  Your contact information plus a photo to know who you are.
3.  A list of the documents they need to bring with them to your office.
4.  Some basic information about filing bankruptcy.
5.  How much you charge for filing their bankruptcy petition.
This means that a bankruptcy attorney seeking to find clients in their state or immediate area, normally only needs a five page (or less) website.  A five page website like the one detailed above should not take longer than three or four hours using WordPress.  In fact, if designing websites is not your thing, your daughter, son or other relative may be thrilled to design one for you and save you the time.
Don't believe you can have a professional website designed in a few hours by a non-professional?  Watch this YouTube video:
http://www.youtube.com/watch?v=8355qaOKXC8
But before you get started, below are a few bankruptcy attorney websites you may want to research for ideas:
Cox Law Group, Lynchburg VA
http://www.coxlawgroup.com/tutorials/index.html
This law firm shows how effective video marketing is.  You can do the same; just sit in front of your computer with a web cam and start talking about your law firm.  Even a two or three minute video is sufficient and it will add a nice personal touch for your clients.  They will feel like they know you before they meet you.  This is an example of excellent PR and you have not spent a penny.
Don't have time to produce videos right now?  No problem, the US Courts website has done the job for you.  In fact, some attorneys copy these videos onto DVD and use them to educate their clients while they are completing the Client Intake Forms.  Simply visit the link below and embed the video into your website:
http://www.youtube.com/watch?v=KU5UDYBAFSQ
See a sample of how these videos are used on the front page of this bankruptcy attorneys website: http://www.lloydcohen.com/
Joseph C McDaniel, Phoenix AZ
http://www.josephmcdaniel.com/
This bankruptcy attorney has a very nice website designed for consumers.  The movement you see on the front page is the result of Flash programming, which can be expensive if you do not know how to do it for yourself.
Walter Metzen, Detroit MI
http://www.detroitbankruptcylawyer.com/
This attorney has a simple looking website with only a few pages; however, if you scroll down to the bottom of the page there is a link for Law Info.  If you click on this link you are taken to the website of Law Info.  Search engines like this normally charge a very high price to design a website and host it for attorneys.  Many of them claim that by hosting on their server the attorney will get more traffic.  Again, an attorney only needs traffic from clients in the state they are licensed in, not the entire United States; which is what most internet marketers base their advertising on.
Carrie Sue Genisio, Kansas City KS
http://www.lawinkc.com/serivcesBankruptcy.htm
This is a very simple web page.  Notice the link titled:  Getting Ready for Your First Appointment.  Unfortunately the link to:  FORMS, does not work' which is one reason it is important to always test your website so that you do not lose potential clients.
Marshall Cohen, Columbus OH
http://www.columbusbankruptcylaw.com/
This is a website filled with content directed toward the client.  Notice how the attorney never mentions fees on the internet.  Instead, he asks clients to come in so that he can assess their situation.  All attorneys need a low fee and a high fee, depending on the complexity of the bankruptcy case.
Find More Bankruptcy Related Websites:
http://chapter7and13bankruptcyblog.com/business-directory
Click on the DEBTOR BANKRUPTCY ATTORNEY category
MORE TOOLS TO HELP YOU
New Video:  A preview of How to Design Your Website with WordPress
http://chapter7and13bankruptcyblog.com/archives/411
For only $35, you can watch this 1 hour and 16 minute training video online.  Buy it for your spouse, son, daughter, relative for yourself to design you own web site quickly and easily at NO COST.
Free and Low Cost Marketing Links for Attorneys
http://www.bankruptcylinks.info/about/marketing-links
Other Free Bankruptcy Training Videos:
http://www.youtube.com/user/MsVictoriaRing
One Response to "Marketing Your Bankruptcy Law Firm"