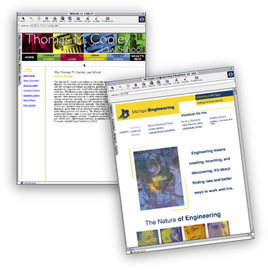 Course Number: 06262001
Duration: 2 hours
Price Per Student: $35.00
Format: Instructor Led Online Classes
CLICK HERE to Register
This 2 hour training course is designed to teach you how to develop your own bankruptcy related website at NO COST. We will use WordPress software and I will walk you through the various settings within WordPress so you can design your own company website within a few hours after attending this one class – guaranteed.
TOPICS COVERED:
Installing WordPress (free)
Installing a theme (free)
Making your own customized WordPress theme (Artisteer software costs $49)
Customizing widgets and sidebars
Installing plugins and activating them (free)
Other tricks and techniques for personalizing your website
This is an INTERACTIVE web training seminar. This means that you are encouraged to develop your website right along with the class so that you can ask questions and get on-the-spot answers.
I look forward to helping you reduce your web design costs to zero and put the power in your hands so you can better control your legal business website.
CERTIFICATE ISSUED
After you attend this training course you will be issued a Certificate of Introduction to WordPress Web Design, personalized with your name. Print on your color printer and frame for your office. For low cost frames, we recommend purchasing from Office Max or Staples for $5.00 or less.
http://www.bankruptcytrainingproducts.com/home/web-and-teleconference-training/web-site-design-course