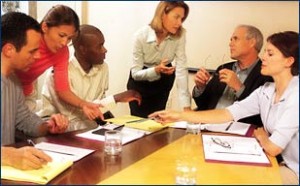 I was talking with an attorney this morning and I asked him why he thought only 1 person has signed up to attend our upcoming Los Angeles bankruptcy training seminars for attorneys.
Attorney Joseph said that attorneys are bombarded with so much information about training seminars that they may not be aware our seminars are different.  Here is the link to the complete seminar outline:
http://www.bankruptcyattorneyseminars.com/outline.html
Therefore, Michael Misenheimer and I are going to use the June seminars, scheduled to be held in Los Angeles, as a test.  It is a financial loss for us to invest the money into airfare, hotel and other overhead expenses if only 1 or 2 people attend the seminar.  Therefore, if we do not have a minimum of 10 people signed up to attend by June 4, we will refund the money of the 2 people who have registered and try another approach.
Perhaps it would be better to offer an online training school for attorneys.  They can login at any time of the day and receive training in Chapter 7s and Chapter 13s.  If this would be the best approach for training, I would love to develop the online school.  However, in the past, attorneys preferred us to train using onsite seminars and this is what I have been doing for the past 5 years.
TRAINING OPTIONS AVAILABLE TO YOU
OPTION 1
If you would prefer to be trained Chapter 7s and 13s in a seminar setting, please register before June 4.  There is no credit card payment required to register.  But I will need a minimum of 10 registered attendees before June 4 or we will cancel the seminar.
Direct link to Registration Form:
http://www.bankruptcyattorneyseminars.com/bankruptcy_seminar_order_form.pdf
OPTION 2
Would you prefer onsite training at your office instead of attending a seminar?  Michael Misenheimer and I would be willing to come to your office and train you and your staff onsite while we are in the Los Angeles area.  Please call 719-465-2442 so we can find out the exact level of training you need.
OPTION 3
If you would prefer to obtain training in Chapter 7s and 13s through an online training school or training CDs, send an email to victoriaring1958@gmail.com
The goals of Michael and me are to provide attorneys with the training they need in the format that best suits their law firm operations.  Please do not hesitate to provide us with suggestions on how we can provide that to your law firm.  We are flexible because we are a small company.  We provide old-fashioned customer service to the attorneys we work with and we look forward to working with your law firm soon.
CONTACTS:
Victoria Ring – 719-465-2442
victoriaring1958@gmail.com
http://www.coloradobankruptcytraining.com
Michael Misenheimer – 404-795-9013
mmisenheimer@gmail.com
http://www.bankruptcy-paralegal.com