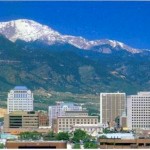 I had a great time yesterday.  After living in Colorado for almost 2 years, I sat up my first Colorado Springs bankruptcy law firm.  In fact, the law firm is right down the street from my house and is located in the beautiful downtown area.  Let me tell you about it.
Mr. Rector, the son of a prominent District Attorney, started his criminal law practice in 1981 so he and his staff already had most of the people type skills to work with bankruptcy clients.  Additionally, he owned the entire building, which was not being used at the time, making it the perfect place to have bankruptcy clients fill out their forms and conduct client intake interviews.
Note: As you may already know, it makes the process go much faster if the clients fill out their intake forms at the law firm and receive a client intake interview in the same visit.  This procedure ensures that 99% of the questions and problems are addressed before input of the petition begins.  Unfortunately, many attorneys adding bankruptcy to their practice do not have the luxury that Mr. Rector has of an entire office building to himself, so they must give the clients the intake forms, ask them to take them home, fill them out and return to the office for a client intake interview. This procedure naturally adds days, weeks and even months to the bankruptcy petition processing time.
After providing Mr. Rector with a variety of options for establishing operational procedures for his new bankruptcy law firm, he decided to market his law firm as a debt modification type service with bankruptcy being the last resort. I have found that many bankruptcy attorneys prefer this procedure because the word: bankruptcy is often a turn off for the general public.  People prefer to work out a loan modification instead of file bankruptcy.  People also prefer to cash in 401Ks before filing bankruptcy (bad mistake); which tells you how the general public still conceives the word: bankruptcy.
Anyway, with that much said, I spent Saturday training two attorneys, one real estate agent and one paralegal on the petition process.  We began at the initial intake and continued through the input of the bankruptcy petition, motion work, the 341 meeting and confirmation.  I was happy to find that they had taken my suggestion and ordered New Hope software, which should streamline their operations.
Ref:  http://www.bankruptcysoftware.com
Although I never would be able to cover all the details of preparing a bankruptcy petition in one day, I covered enough so that the paralegal could gather the information needed to prepare a well-detailed one.  Then, when the law firm obtains their first client, I will go back and train them on a real case.  This is where the details of the process will have a better retention rate because everyone will be working in a real world scenario.  I expect the all the staff to learn a great deal with the first petition process, which will then complete about 98% of my training.  After that, if a problem comes up, they can email or call me as I always provide assistance and help after the law firm is set up for as long as they need me.
As a one-person operation, I cannot take on the whole bankruptcy world, but I love helping attorneys set up new bankruptcy practices. Some attorneys can be trained over the phone, some need to fly to my location in Colorado Springs, and some attorneys fly me to their location to spend a couple days.  I am flexible and more than willing to help any honest attorney who is interested in more than just making money.  I only work with attorneys who care about their clients and have a heart for the debtor. These are the law firms that will survive and outlast all the others and be a benefit to people.
If you are an attorney who is seeking the training services I provide, let us talk about it.  Visit the website at http://www.coloradobankruptcytraining.com or call 719-465-2442.