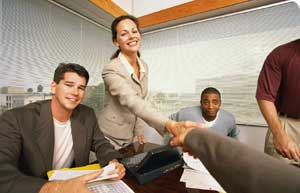 Marketing needs to be integrated into your day-to-day business functions; not done as something you dread, like accounting and taking out the trash.  The following are a few tips to help you establish ongoing marketing structures for the growth of your business or law firm.  Once they become a part of your structure, it will become easier for you to implement.
** Check business-related emails daily (preferably several times a day) and respond to inquiries immediately.
** Be sure to answer all emails with a professional tone or potential clients will not place any faith in your experience and knowledge.
** Never post PERSONAL information on Facebook and Twitter if you do not want your clients to see what you post.  Instead, post comments or announcements pertaining to your business at least 2 or 3 times per week on Facebook and Twitter for additional exposure.
** Always have links to your Facebook, Twitter and LinkedIn accounts on every page of your website so that people can quickly follow you. Subscribing to ezines is quickly become obsolete because they were mostly filled with high pressure sales.  Instead, they are being replaced by social networking which is virtually the free way to market in 2010.
** Continually build your LinkedIn business group list.  Set a goal of 500 or more followers who are specifically within your specific target market.
** When you receive emails from people within your target market, add them as a connection to your LinkedIn list by copying and pasting their email address into the INVITE screen of LinkedIn.
** Set up Google alerts to be notified if anyone mentions your company (or you) on the internet.  Take time to research information about other virtual assistants with the ideas of either networking together or learning from them so you can improve upon your own services as well as your website. To set up a free Google alert, visit http://www.google.com/alerts
** Enroll in online internet marketing classes as often as you can.  This helps you to keep up to date with new trends and the internet marketing world; while improving your marketing skills.  One of the best is at:  http://www.websitemagazine.com/marketmotive/
** Join MeetUp groups in your area for small business and entrepreneurs and attend them.  Also, if there are any paralegal MeetUp groups or organizations you can join within your field, do that also.  But do not just join and read a newsletter or two.  Take an active role by attending meetings and networking with group members.  Check out http://www.meetup.com

** Write about your experiences that are related to your specific business or law firm on a weekly basis.  Post this information to your blog, which should have a separate website of its own.  We recommend you install WordPress software with the domain so it will be easy for you to update frequently or set up one online free at http://wordpress.com/
These are just a few tips to get you started.  However, implementing ongoing marketing techniques into your day to day business or law firm will certainly make a large difference in your profits and the growth of your enterprise.
For marketing assistance and other ideas, you may want to schedule a telephone conference with the author of this article: Victoria Ring.  Rates are currently $125 per hour and you can reach her by email at victoriaring1958@gmail.com or by calling 719-659-0743